Leadership & Staff
Executive Team
Pastor Bernard Blackmon, President/Pastor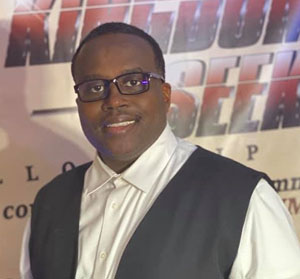 Pastor B was born in Washington, D.C. He graduated from H.D. Woodson Sr. High. He is a Veteran of the Marine Corps. He served during the Gulf War in Saudi Arabia.
Pastor B accepted Christ into his life on January 14, 1990 while attending Faith Temple No. 2 Original Freewill Baptist Church. He has attended several Bible Classes and has taken Bible Courses over the internet.
Pastor B began preaching on March 7, 1993. His first sermon was "A HUNGER AND THIRST FOR THE RIGHT THING". He served as a missionary to Haiti in 1997 and Liberia in 2012.
Pastor B is a gifted teacher, passionate preacher, man of prayer, given to mission work and loves people.
Pastor B is married to Lady Vicky and they have two children Asia and Bre'nard who serve with him in ministry.
Pastor B released a gospel CD entitled "You Shall Be Saved" in October 2005. He is the author of a book entitled "A Word To The Wife: How To Bring Your Husband Down From The Rooftop" released in 2017. Pastor B has written and directed several plays. He is a mentor to many.
Pastor B's favorite scripture is Matthews 6:33 'SEEK YE, FIRST THE KINGDOM OF GOD AND HIS RIGHTEOUSNESS AND ALL THESE THINGS SHALL BE ADDED UNTO YOU'.
Pastor B planted the Kingdom Seekers Fellowship Church on February 28, 2014.
Lady Vicky Blackmon, Vice President/Board Member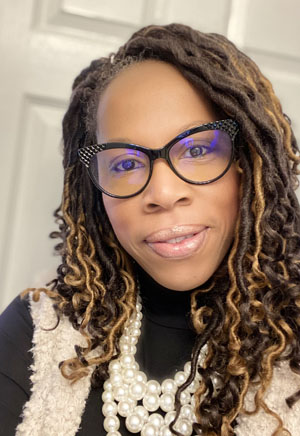 Vicky (McNair) Blackmon was born in East Orange, NJ. She accepted Christ into her life in November 1991. She has attended several Bible classes taught at church and have taken Bible courses on The Old & New Testament Survey and courses from the Moody Bible Institute.
She is the wife of Pastor Blackmon and they have two children Asia and Bre'nard. She is a teacher, Minister, Children's Instructor, Mission worker and supports the church every way she can.
Lady Vicky enjoys singing the old time songs during prayer and tarry services. She loves God and desires to do His will. One of her favorite scriptures is Psalm 34:8 "O taste and see that the Lord is good: blessed is the man that trusteth in him". A favorite saying is "Nothing in life is a mistake, but it is an experience, so learn from it".
Elder Craig White Sr., Treasurer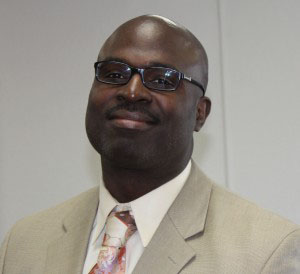 Craig White was born in Washington D.C. He is married to Christole Bowman and they have four children. He works for the Fairfax County Fire Department as a Firefighter/ EMT. Elder White has accomplished several things such as becoming a Master Barber, founded a non- profit group H.O.M.E ( Helping Others Meet Expectations), private pilot, CPR instructor and many more.
In 2014 he became a member of Kingdom Seekers Fellowship Church. He became a license preacher in September 2016 and was ordained as an Elder in 2020. He is the Treasurer for the Official Board and Church.
Minister Vaughn Perry, Secretary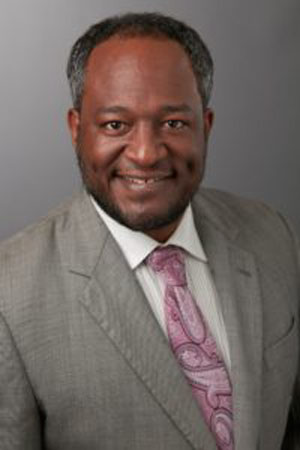 Minister Vaughn Perry was licensed to preach the gospel in December 1998, at Redemption Ministries, Washington, DC. He was ordained in August 2000. He holds his Bachelor's degree in Internetworking Technology (IT) from Strayer University, Suitland, MD. He also has a Master's degree in Project Management at George Washington University, Washington, DC.
He is currently an Assistant to the Pastor at the First Bethel Baptist Church in Capitol Heights, MD.
Minister Perry is a committed husband and a dedicated father. He and his wife Krislynn are proud parents of two boys and two girls: Dominique, Johari, Zander, and Rylee Mae.
Bishop Arinzor Blue, Board Member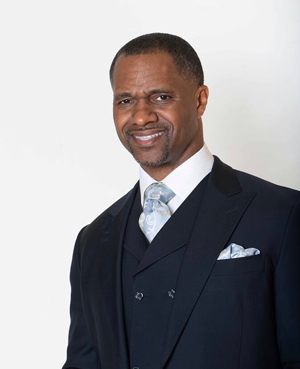 Bishop Arinzor Blue is the Pastor of Faith Temple No. 1 in East Orange, New Jersey. He is also an ordained Bishop of the Original Free Will Baptist Church Conference of America. Bishop Blue is married to the Missionary Loria Blue and they have 6 children. He is a visionary, purpose driven and trend setting man of God. He has been a member of the Board of Kingdom Seekers Fellowship Church since the establishment in 2014.